Roof Cleaning
Professional roof cleaning in North and Central Brevard County is just a phone call away, (321) 480-9515. At Harper's Quality Services we use low or no pressure cleaning methods on tiled, flat, shingled, metal and barrel tile roofs to provide the best results for your home or business.
A stained or discolored roof is both a visual turn-off as well as an economic issue. A dirty roof can detract from your home's overall appearance, and in the case of property for sale, can be a big negative.
Cleaning and removal of organic material, algae, mildew and other stains will increases both the life and effectiveness of your roof. Harper's can clean all types of roofing material, tile, shingle, metal or concrete. We use a low pressure, chemical cleaning method that reduces the amount of original roof material removal. This allows the roofing material, especially "grit" shingles to perform optimally in the hot Florida summers.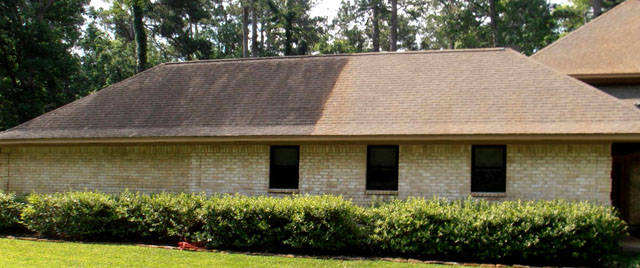 Let Harper's Bring Back That Shine to Your Home!
Harper's Quality Services is fully licensed and insured and we pride ourselves in "honoring" your home and family. You can trust us to work in the most respectful manner while we perform our services on and around your home or business. With over 25 years of roof cleaning here in Brevard County, we know Florida roofs and the best way to clean them. Benefit from our experience the next time you need roof cleaning. Call (321) 480-9515 today!
Things to consider about roof cleaning services:
· I can probably do it myself. Roof cleaning can potentially be a dangerous task, climbing, reaching, slippery surfaces and all spell injury. There may be other home maintenance jobs you can do, but roof cleaning should be left to the professionals.
· A stained or dirty roof needs to be replaced. Often the only things these roofs need is a professional; cleaning. Why spend thousands of dollars on a new roof, when you can restore your once beautiful roof for a fraction of that cost
· I can "spot" clean my roof, just where its discolored. Two reasons this is a bad idea. One the finished job will more than likely be patchy, with stripes of cleaned roof next to uncleaned areas. Secondly, not all mildew or stains are visible, if only partially cleaned, the untreated areas will multiple.
· High pressure cleaning is best for cleaning roofs. NO. The water pressure levels of commercial pressure washers can easily damage roofing material, especially shingles. We have clean thousands of roof successfully using non-pressure cleaning methods. With the right techniques and cleaning practices you have nothing to worry about.